In questa sezione, abbiamo raggruppato alcune delle immagini in diretta disponibili in rete che sono realizzate sulle navi e nei porti. Naturalmente quest'elenco è puramente indicativo essendo questo argomento continuamente modificato nel tempo. Alcuni dei siti visitati sono realizzati in maniera pressochè completa: vengono forniti tutti i dati di movimento della nave insieme con una mappa geografica della sua posizione. Purtroppo sono state individuate per adesso solo quelle delle navi passeggeri. Le fotografie, comunque, quando la nave è in porto, mostrano anche le navi da carico. Generalmente, per individuare le webcam interessate, usare i "motori di ricerca tipo Google" inserendo i termini interessati.
Forse, basta così poco per navigare anche da casa...
---
In this section , we grouped some of the images on line available on the ships and in the ports. Obviously, this list is an indication due to the fact that this subject is continuosly modified in the time. Some of the visited sites are almost complete: there all all the navigation ship data along with a geographic map on where the ship is presently sailing. Unfortunately, only the ones related to the passenger ships are shown; maybe, sometimes, we will see the ones of cargo ships as well. Generally, to search for ship webcams, is enough to use the "search engines", as Google by inserting the required terms.
This makes possible to sail even from home...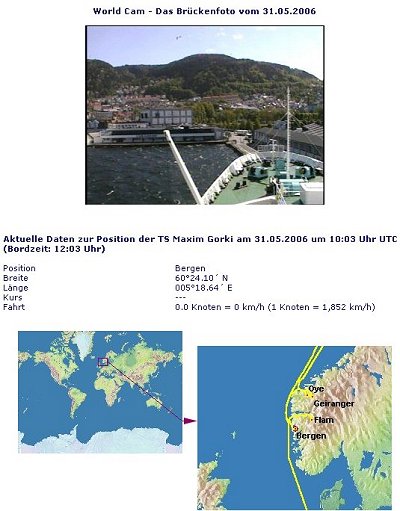 La pagina Web della "T/N Maxim Gorki" completa di foto del porto di Bergen e mappa dell'itinerario di crociera/Webpage of the Ts Maxim Gorki, along with itinerary and pic
---
La pagina Web della "M/n Costa Allegra " con l'itinerario dell'Estremo Oriente, notare i dati di navigazione e quelli meteorologici/Webpage of the Mv Costa Allegra, along with meteo & navigation data
La vista da prora della "M/n Costa Allegra " (porto di Ho Chi Minh)/Bow view of Mv Costa Allegra
La vista da poppa della "M/n Costa Allegra " (porto di Ho Chi Minh)/Stern view of Mv Costa Allegra
---
Le foto in diretta dei porti ci mostrano alcune banchine dove le navi attraccano per le loro operazioni commerciali. Anche le navi da carico sono rappresentate in queste istantanee.
Camera web del Canale di Panama - Chiuse di Miraflores/Web view of Miraflores Locks, Panama Canal
---
Camera web del porto di St.Thomas (Is. Vergini)/Webcam of St. Thomas Harbour (U.S.V.I.)
---
Alcuni indirizzi URL di webcams sulle navi/URL addresses of ship webcams:
| | |
| --- | --- |
| | Descrizione/Description |
| | Questo sito raggruppa la maggior parte delle webcams situate sui ponti di comando ed in altre zone della nave. Il sito dovrebbe essere meglio aggiornato/This site contents most of all ship webcams |
| | Qui vi sono le tre navi dell'Oceania. E' interessante il collegamento della posizione di itinerario con la mappatura satellitare Earth di Google/The ship webs of Oceania Cruises. See Google Earth linked to their itinerary |
| | Pagina web che contiene tutte le webcams della Flotta Costa/All webcams of Costa Cruises |
| | |
| --- | --- |
| | Immagine web del Porto Antico di Genova/Webcam of the Old Port of Genoa |
Ricordiamo che per trovare le webcams dei porti e delle navi, basta consultare i motori di ricerca (Google, ecc.) inserendo le parole significative d'interesse. Buon viaggio!!!
We remind you that in order to find ships and ports webcams, it is enough to check with search engines (such as Google, etc.), by inserting the significant terms. Bon voyage!!!